One thing our family needs is a better way to stay organized. I love that Put It On Paper has printable organization kits and what's even better is that they are giving away 8 kits!!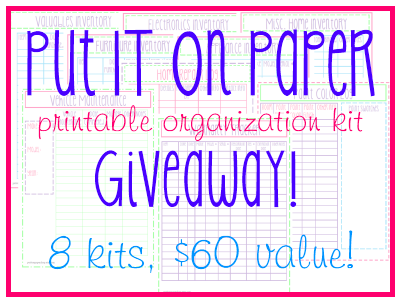 Welcome to the Put It On Paper Printable Organization Giveaway!
Hosted by the Put It On Paper blog!
Put It On Paper is an Etsy shop with tons of printable organization to keep your life, home, family, business, and even your blog organized.
Sarah from Put It On Paper is giving away each of her 8 organizational kits to one lucky winner.
These kits have over 40 documents and are worth over $60!<br >
Winner gets to choose color scheme for their kits. Kits are available in vivid and opaque color schemes, examples of both can be seen in the Etsy shop.
Giveaway is open worldwide, but printables are only available in English.

Giveaway ends 11/10/12. Good luck!
Includes:
6. The Home Maintenance & Inventory Kit
To Enter to Win:
Mommy and 4 Peas in a Pod Disclosure: I did NOT receive any monetary compensation for this post. Mommy and 4 Peas in a Pod is not responsible for shipment of prizes. 
Related posts: